Graduate education for the public good.
Our commitment to the public good defines doctoral and master's education at The Graduate Center of The City University of New York — the most public of public universities.
In the nearly 60 years since The Graduate Center was established, we have become one of the leading Ph.D.-granting institutions in the country. We are especially proud to rank among the country's top 10 institutions in awarding doctorates to students from underrepresented minority groups.
In serving the public good, graduate education prepares students for careers within the academy — as teachers and researchers — and increasingly for careers outside of the academy. Ours is a world in which creative, problem-solving expertise is more important than ever—and that's what we're about.
Read the full statement from President Robinson and Provost Connolly
Generous gifts and grants change our students' lives and advance research, scholarship, and teaching at The Graduate Center.
This past year, we benefited from remarkable support that is already making a difference.
Conversation Starters, New York to Hollywood
Setting the Little Rock Nine to a New Score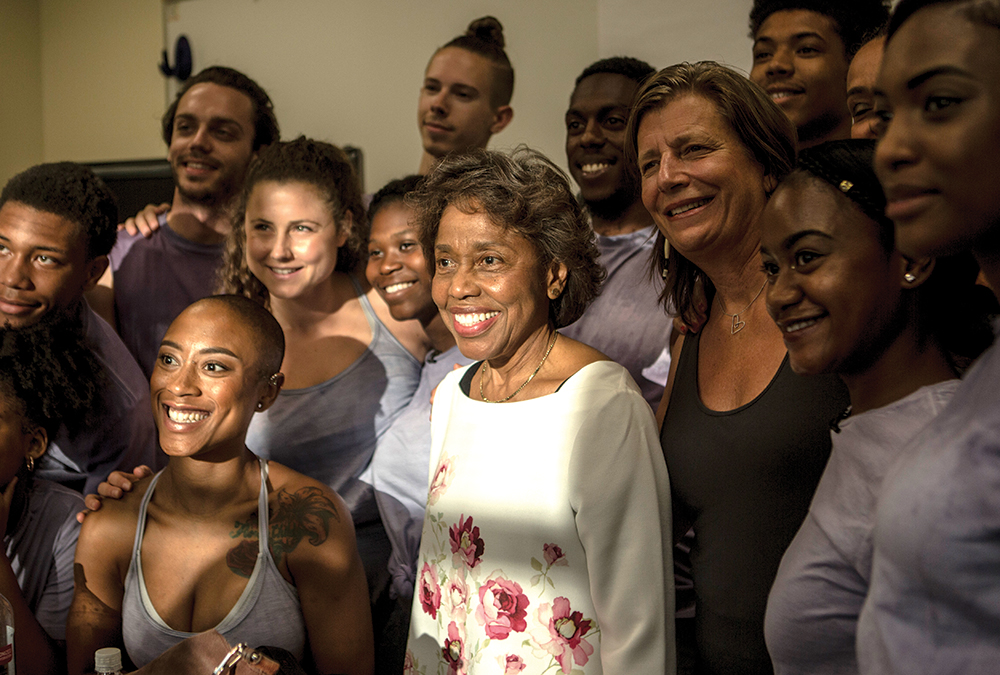 Civil rights history is the inspiration for the opera-in-progress, The Little Rock Nine, one of the latest works by Tania León, professor of music at The Graduate Center and Brooklyn College. The New York Times praised the composition, calling it a "musical tapestry of jazz, gospel and snippets of ragtime," distinctive combinations that have defined León's style since she emigrated from Cuba 50 years ago.
The performance of the opera was just one of the highlights in an exceptional year for León, whose career was honored with a major award from United States Artists.
A very busy musician, whose compositions are performed all over the world, León is equally dedicated to developing new talent. She collaborates closely with her students at The Graduate Center, encouraging them to discover their compositional styles. With her United States Artists award, she plans to create a series of lectures and talks to inspire tomorrow's musicians. "I want to encourage young people that any career in the arts is possible."
Science That Breaks Barriers
Adding Algorithms to Neuroscience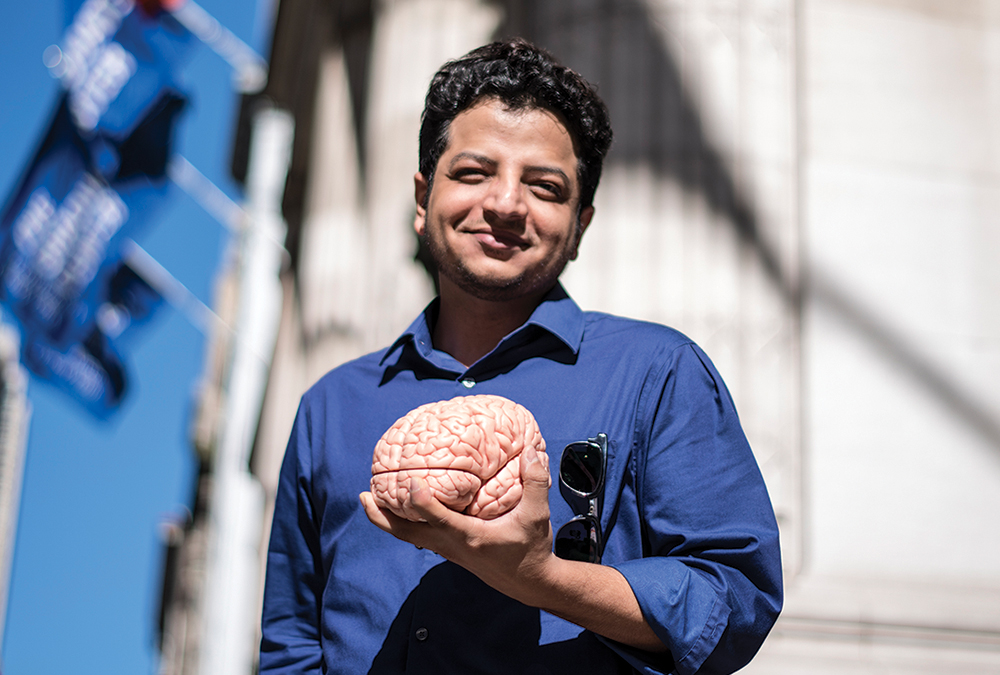 Big data, machine learning, cognitive neuroscience — this is the scientific intersection where Fahd Alhazmi conducts his research. A doctoral candidate in psychology and biology, Alhazmi uses his training as a software engineer to understand the intricacies of the human brain. Working with Presidential Professor Tony Ro (Biology and Psychology), he applies algorithms — similar to the ones used to teach computers to act without explicit instructions — to brain wave data to explore how the brain processes routine tasks, such as eye movements. But Alhazmi's vision goes beyond the lab. He has amassed nearly 20,000 followers on Twitter and has contributed bylined articles to popular Arab media outlets. "Science needs selfies and stories in order to combat misinformation and restore public trust," he says.
Exploring the Physics of Life
With major support from the National Science Foundation, The Graduate Center and Princeton University joined forces this year to create the Center for the Physics of Biological Function. This interdisciplinary initiative creates new research opportunities for graduate students and inspires advanced undergraduates (our future master's and doctoral students) with specialized summer classes. Featuring major scientists, such as Visiting Presidential Professor William Bialek (Physics), the center's free events and programs bring exciting research and theory to the public. This center and The Graduate Center's Initiative for the Theoretical Sciences advance our vision of promoting leading interdisciplinary scientific research and discovery for the benefit of this and future generations.
"A Community to Grow With"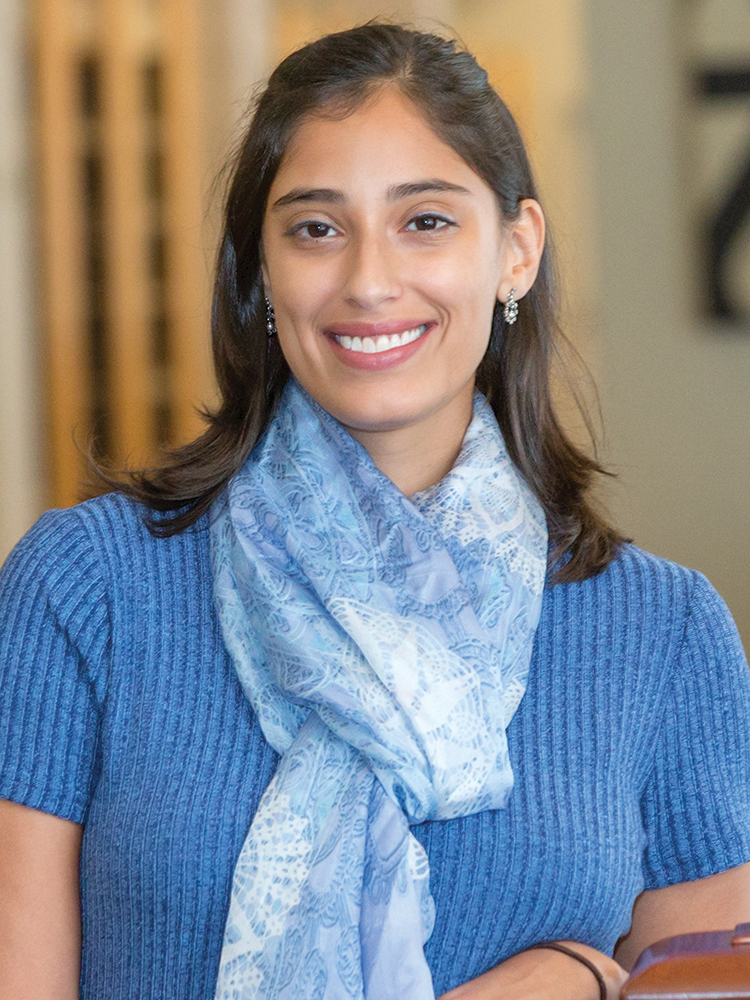 In 2017–2018, The Graduate Center launched new master's programs in some of today's most dynamic disciplines: cognitive neuroscience, data analysis and visualization, data science, digital humanities, international migration studies, and quantitative methods in the social sciences. The programs are extending opportunities for graduate education and attracting a growing and diverse group of students like Raven Gomez.
Gomez is convinced that technology empowers students. That conviction led her to The Graduate Center's new digital humanities master's program, where she intends to develop high-tech ways to benefit nontraditional students like her.
Gomez's own path to a master's degree took some unexpected turns. Health problems kept her from completing high school, but she earned her GED, entered LaGuardia Community College, and earned a scholarship to Smith College. Smith exposed her to the field of game studies and to the concept of incorporating games and technology into learning. She chose The Graduate Center's digital humanities master's program for its commitment to digital technology in education. Gomez says that, "This was the kind of community that I wanted to grow with." Already, she is eyeing The Graduate Center's Ph.D. programs.
Graduate Center alumni make their mark in academia and well beyond with roles that may surprise and inspire you. This past year, a number of our graduates made news for impressive career jumps and achievements. Their success is evidence that The Graduate Center changes lives.
Patricia Chapple Wright (Ph.D., Anthropology)
President's Distinguished Alumni Medalist (2018)
Primatologist, professor, award-winning conservationist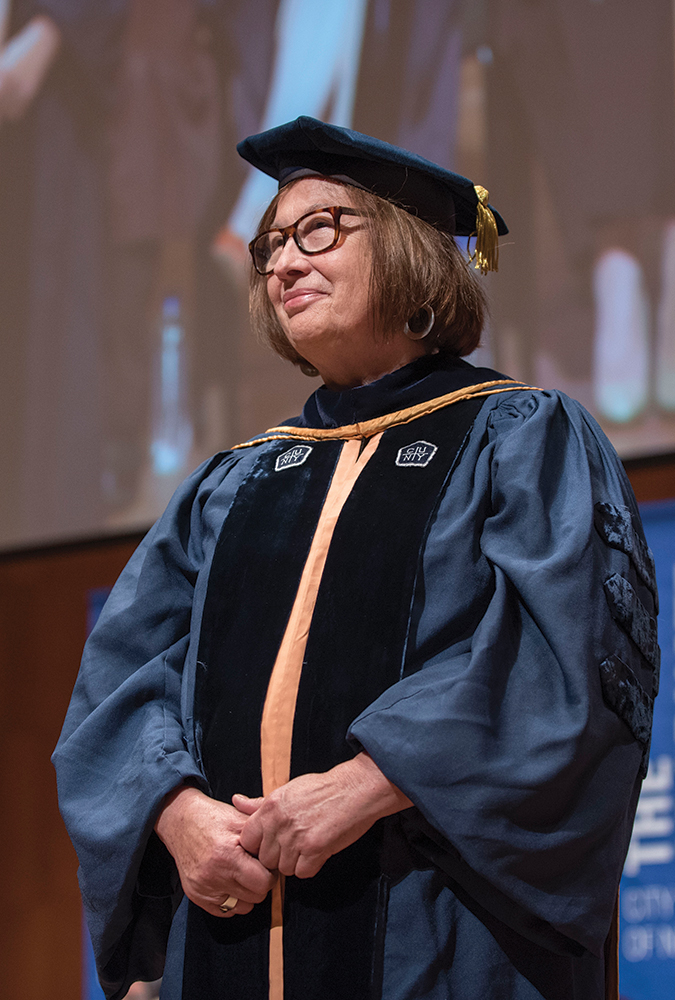 Patricia Chapple Wright was a social worker with a young daughter when a paper she researched on the parenting habits of owl monkeys led her to The Graduate Center to study with world-renowned primatologists and pursue her Ph.D. in anthropology. With her new doctoral degree, she traveled to Madagascar to search for the greater bamboo lemur, a species thought to be extinct. She found it and then discovered the golden bamboo lemur, a brand-new species. With a passion to protect the lemurs and Madagascar's biodiversity, she partnered with the government and local communities to create the Ranomafana National Park and, later, established the Centre ValBio, a sustainable research station for wildlife science, environmental arts, community health, and conservation education.
Wright's story and work are the focus of the 2014 IMAX film Island of the Lemurs. She won the 2014 Indianapolis Prize, considered the Nobel Prize for conservationists, and was named a MacArthur Fellow.
Now a distinguished professor of anthropology at The State University of New York at Stony Brook, Wright told NPR that The Graduate Center's philosophy of graduate education for the public good resonates with her. "I feel that my responsibility now is to use my Ph.D. to train the next generation of primatologists, tropical biologists, and conservationists."
This past year, The Graduate Center welcomed leaders in politics, economics, education, the arts, and activism — part of our effort to promote dialog and kindle new ideas, perspectives, and understanding. We put the public at the center of the conversation with free lectures and events.
Click the photos below to explore some of the event highlights of 2017-2018.
Graduate Center by the Numbers
We are…
3,900+ doctoral and master's students taught by 130+ faculty members appointed at The Graduate Center and 1,700+ faculty members from throughout CUNY.
Accomplished
Graduate Center faculty and students are winners of the Nobel and Pulitzer prizes and Guggenheim and Fulbright fellowships, among many other accolades.
15,000+ doctoral graduates. Of graduates from 2003 to 2014: 68% work in education, about 20% work in private industry or business or are self-employed, and just over 10% work in either the government or nonprofit sector.
Diverse
Ranked #8 among institutions in awarding Ph.D.'s to Hispanic or Latino students.
21% of incoming doctoral and master's students identified as underrepresented minorities.
23% of doctoral students are international, representing nearly 80 countries.
Engaged
180,000 CUNY undergraduates are taught by Graduate Center students every year, making the GC an important part of CUNY's success at propelling almost six times as many low-income students into the middle class and beyond as all eight Ivy League campuses.
100+ free public programs each year draw 20,000+ attendees.
Affordable
90% of incoming doctoral students receive five-year fellowship packages.
45% of incoming doctoral students are guaranteed to receive summer support for five years.
Selective
18% of doctoral applicants are admitted.
2017-2018 Budget by Spending Category
Total Tax-Levy Budget: $130,695,304*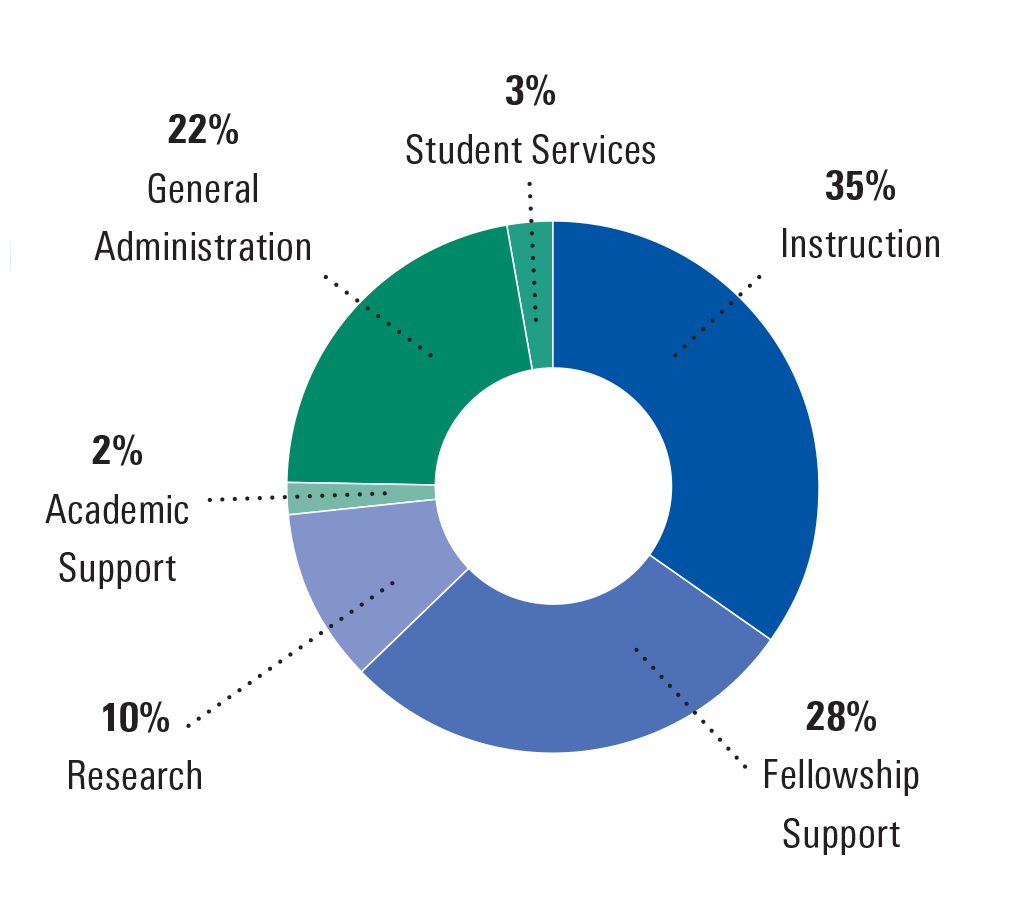 View more detailed budget information at www.gc.cuny.edu/budget
*This budget includes funds allocated to CUNY's Macaulay Honors College as part of the University Center academic entities as well as funds allocated to the Advanced Science Research Center, which joined The Graduate Center in 2017.
Thank you to our donors who generously supported The Graduate Center last year.

This past year, through private philanthropy, The Graduate Center was able to:
Offer 31 dissertation research awards
Make 44 emergency grants in support of immediate student
financial need
Provide funding for 32 students to engage in summer
research projects
Sustain the quality of our programs and embark on new
initiatives that will advance our standing as a national leader
in graduate education
Donor Support
| | |
| --- | --- |
| 1,355 | Total donors |
| 618 | Alumni donors |
| 24 | Planned gift donors (Mina Rees Society) |
| 10 | Gifts of $100,000 or more |
| 60 | Gifts of $10,000 or more |
| 134 | Gifts of $1,000 or more |
| 811 | Gifts of $100 or more |
Sources of Support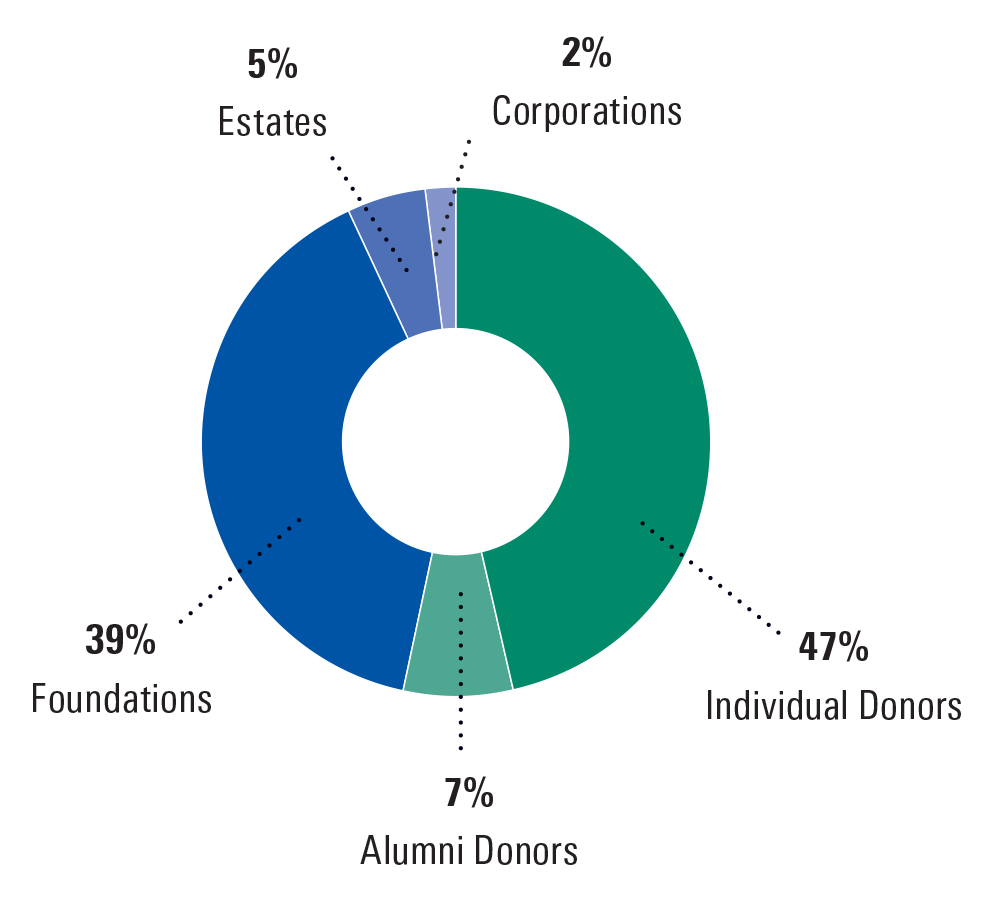 The Graduate Center Foundation Board of Trustees
The Graduate Center Foundation supports the mission of The Graduate Center by raising and managing funds to supplement government funding, by publicly advocating for the goals and interests of The Graduate Center, and by serving in an advisory capacity to The Graduate Center's president, provost, and senior administrators.
The trustees are not scholars but rather civic minded New Yorkers from a variety of professions who believe in and want to support the mission of public higher education generally and of The Graduate Center in particular. This mission is predicated on the belief that everyone with curiosity, talent, and ambition ought to be able to pursue formal education as far as those qualities permit without regard to wealth or other forms of privilege.
OFFICERS
Chair: Peter Darrow

Vice Chairs:
Lin I. Bildner
John MorningTreasurer:
Myron S. GlucksmanSecretary:
Dwight E. Lee
BOARD OF TRUSTEES
Karen C. Altfest
Cyrus Amir-Mokri
Darren M. Fogel
Lynn P. Harrison 3rd
Michael Hecht
Christoph M. Kimmich
Joanna Migdal
Howard L. Morgan
Vivian Pan
Raymond Quinlan
Robert F. Raucci
Ramine Rouhani
John Harrison Streicker
Byron Tucker
Caroline Urvater
Jide J. Zeitlin
Contact The Graduate Center